Hockey
---
Coordinators
Mr Chris Lewis (Southern Metro Regional Headquarters - Dandenong Police Complex)
Mob: 0417 234 909
Email: This email address is being protected from spambots. You need JavaScript enabled to view it.
Cassian Taylor (Ringwood Police Complex)
Mob: 0406 970 327
Email: This email address is being protected from spambots. You need JavaScript enabled to view it.
Description
Field Hockey 6's (6 players on field per side played on a 1/2 field). 'Round robin' tournament with finals for medals 1st v 2nd for Gold and Silver and 3rd v 4th for Bronze. We are having an A and B pool; everyone must register for the open event and the A & B pool will be determined by the Sports Co-Ordinators.
| | |
| --- | --- |
| Event  | Entry |
| 6 a side Mixed (Maximum 8 registered players per team) | $20.00 |
| | |
| --- | --- |
| Age Code | Description |
| 00  | Open |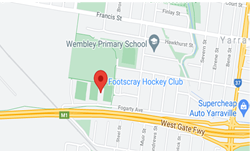 Venue, Date & Time
Date: 31st March 2023
Day: Friday
Time: 0930—1600 hours
Venue: Footscray Hockey Stadium
Location: Located in: McIvor Reserve
Address: McIvor Reserve, Fogarty Ave,
Yarraville VIC 3013
0900 hours - Team Co-ordinators/ Captains/ Umpires
meeting- This is mandatory for all Managers and
captains.
Facilities
Two synthetic surfaces change rooms and toilets, good viewing area, full canteen, car parking and bar.
Special Instructions
In line with COVID-19 we request upon your attendance that you liaise with the TECH bench. It is important that this be done to ensure we comply with the DHHS & Vic Pol guidelines.
Teams: 1- Competition to consist of 6 per side.
            2 – Maximum of 8 registered players per team.
Game Time: A game will consist of 20 minutes no
half time, 5-minute break between games
Umpires: Teams may need to provide an umpire if
organisers are unable to source umpires for the event.
Conditions:
1. Players can only play in the teams in
which they have registered.
2. To play for another team or agency in which they
are not registered, permission must be sought
from Coordinators and the relevant Team Captains.
(Please note, a breach could result in lost points).
3. Minimum of 2 females on the field at any time.
4. Game rules will be forwarded along with the fixture
closer to the competition date to Team Captains /
managers for discussion at the Co-ordinators meeting.
Teams & Individual Events
You are now required to enter and pay online for both individual and team events i.e. payment is now required for both individual and team events.  
Entry Form Information
 Please indicate a team name and nominate a captain / co-ordinator for contact purposes.
• There will be two pools A&B pool – each Pool will play for Gold Silver & Bronze (Subject to change depending on number of teams entered), once teams have entered, they will be sorted into the Pools
• If you are unable to enter a team, contact a Coordinator for your name to be provided to the relevant agency or placed on a waiting list for
inclusion in a composite team
• Each team should represent their own organisation - Please refer to the condition as set out in the Victoria Police & Emergency Services Games booklet Further information along with the fixtures will be forwarded closer to the competition
Goal keepers: re the inclusion of goal keepers. If the agency is unable to supply one, Sports Co-ordinators may grant an exemption for Goal Keepers to play with other agencies.
Current Title Holders:
Gold – Wallopers, Silver Flint Tropics, Bronze Vic Fire
Could all competitors please provide THEIR e-mail address, or agency address on entry to facilitate the sending of the relevant rules? Preference for sending rules will be by e-mail.