Venue, Date & Time
Yarra Capital Trail - Start and finish at Kings Domain near the Sydney Myer Music Bowl (See map below for running route) Friday 18th March 2022. Event to start at 0900 hours. The event will be the official launch of the 2022 games. Competitors are requested to be at the start line by 0830hrs for a briefing and pre-race preparations/registrations.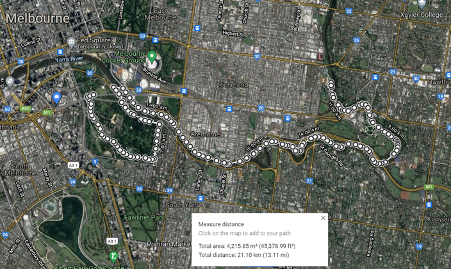 Facilities
Public toilet facilities available along the course.
Special Instructions
There will be drink stations available at the start/finish line, the turn-around point, and at other spots along the course. There are also public drinks fountains along the route. With COVID-19 requirements applying, runners are required to bring their own drink bottles and have them at the start/finish line where they can be accessed during the run. Sharing of drink bottles is not permitted.
Teams & Individual Events
You are now required to enter and pay online for both individual and team events i.e. payment is now required for both individual and team events.  
Entry Form Information
Could all competitors please provide THEIR e-mail address, or agency address on entry to facilitate the sending of the relevant rules? Preference for sending rules will be by e-mail.
A COVID Safe Plan IF REQUIRED will be implemented for this event.